Introduction
Intrinsically safe wiring is a method of protection in which the wires and devices are incapable of creating a spark and igniting fuel.
In a Veeder-Root Automatic Tank Gauge (ATG), the low power modules, wiring and devices are considered intrinsically safe because they are physically and electrically isolated from all high-power wiring.

For more information on console wiring, please see the TLS-450PLUS Site Prep and Installation Manual (577014-073).
 
Intrinsic Safety Requirements
To maintain an intrinsically safe environment, sensor and probe wiring must be placed in their own conduits, troughs and electrical boxes. These conduits, troughs and electrical boxes cannot be shared with any other wiring – power, communication or other non-Veeder-Root intrinsically safe wiring.
When a Veeder-Root ATG comes pre-installed in a cabinet, all intrinsically safe requirements must be followed. All intrinsically safe wiring must run through separate conduits or be physically separated with a metal barrier. As mentioned before, these conduits cannot be shared with high-voltage, communication or wires from other devices or equipment.
IMPORTANT: Failure to follow these requirements is a violation of intrinsic safety, UL/cUL and other licensing bodies.

Note: In addition to the intrinsic safety issues, failure to follow these requirements can also lead to device communication issues, especially from electrical noise interference.
The recommended practice when installing and pre-wiring a Veeder-Root ATG inside of a cabinet is to follow all requirements and guidelines mentioned in the TLS-450PLUS Site Prep and Installation Manual (577014-073), including connecting conduits to the console's knock-outs.
Installation Review
This example shows a clean installation

All wires – low and high voltage – exit the console and immediately enter a rigid conduit. Unlike the image on the next page, the rigid conduit reduces or prevents opportunities for non-intrinsically safe wiring from being placed next to or in the                 same conduit as Veeder-Root's probe and sensor wiring.



In addition, the console has not been altered in any way; unused knock-outs have been left in place and the divider walls have not been removed (each module is physically separated with a metal plate).



Although not required, the high and low voltage wires are pulled in opposite directions. This reduces the chances of these wires being placed side by side inside a wiring trough.
The example on the right shows an incorrect installation.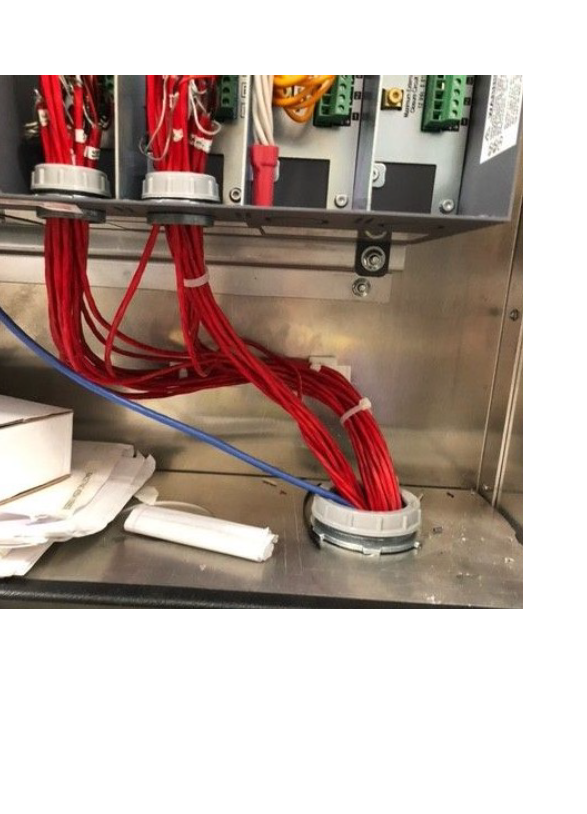 A non-intrinsically safe wire (blue) is entering the same space and conduit where the Veeder-Root's probe and sensor wires (red) have been installed.
 

This installation did not use any conduits. If the intrinsically safe wires (red) had been previously installed in their own rigid conduits, these wires would have a physical separation from the blue wire.

Even if a space inside the cabinet will only contain intrinsically safe wiring, it is still a requirement to run the wires inside rigid conduit. This will prevent intrinsic safety violations if other wires are run through this space after the cabinet is installed.
 
Note:   Local regulations might require AC and DC voltages to be separated. Comply with local wiring codes.