Advancing the Red Jacket® Platform
All the advantages of the Red Jacket Submersible Turbine Pump, and now designed to withstand corrosive environments. Whether your site is struggling with Ethanol-induced in-sump corrosion or ULSD-induced in-tank corrosion, with its specialty coating* and stainless-steel construction, the Red Armor solution is designed to survive.
Red Armor is a robust fixed-speed fuel pump with a motor that delivers higher flow rates than comparable submersible fuel motors for corrosive environments, promoting optimal fuel flow and dispensing. The Red Armor STP also features Red Jacket's advanced packer manifold design, making it the industry's easiest and safest STP to install and service. This STP solution is available in ¾HP to 2HP motor configurations and fixed or Quick Set® adjustable lengths.
*Red Armor's specialty coating is the toughest performer across a battery of abrasion, immersion and impact standards.
See the Red Armor® Difference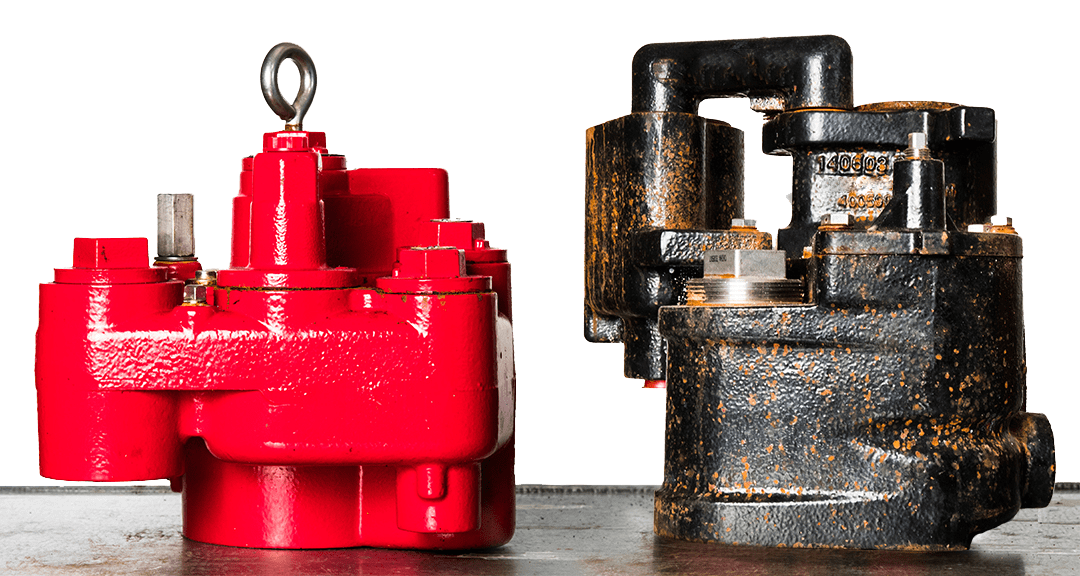 Features and Benefits
The Red Armor family of Submersible Turbine Pumps (STPs) and Pump Controllers ensure that your customers can pump fuel quickly, efficiently and safely – whether it's motor fuel, diesel, aviation gasoline, ethanol/methanol or kerosene – in even the harshest aboveground or underground fueling environments.
In-sump Protection from Corrosion
Added protection on all exposed surfaces
Specialty coating on all cast surfaces withstands acetic acid exposure to prevent pitting and deterioration over time.
Stainless Steel construction on all exposed surfaces ensures easy maintenance for the life of the pump, including; riser, nuts, springs, screws, check valve seat, eye bolt, and check valve guide.
All the advantages of The Red Jacket Packer Manifold design
Built-in Isolated Contractor's Box 
Easy to Install and Service 
Increased Electrical Safety 
Environmentally Friendly 
Innovative Check Valve Design 
In-tank Protection from Corrosion
Prevent corrosion 
Constructed with upgraded materials - Powder-coated discharge head, stainless column pipe and quick-set connector.
All the advantages of The Red Jacket UMP design:
Up to 5% Increased Flow with 8% Less Power Consumption
Improved Reliability and Increased Safety
Better Quality 
Universal Compatibility
Build a system that prevents corrosion
As corrosion advances it has the potential to affect the integrity of piping and electrical systems, and the serviceability of submersible turbine pump equipment. Veeder-Root has developed The Red Armor STP, the Sump-Dri Desiccant System, and other accessories, to help users create the right configuration for preventing corrosion in their fueling environment.
Learn more about the causes of corrosion and the equipment needed in your fueling system to help prevent it.
Learn more about in-sump corrosion
Specifications
100% Gasoline
100% Diesel
0-100% Biodiesel blends
Jet fuel
AVGAS
Kerosene and Fuel Oil
Methanol concentrations up to 100%
Ethanol concentrations up to 100%
MTBE, ETBE, or TAME concentrations up to 20%

3/4 HP, 60 HZ, 1-phase
1 1/2 HP, 60 HZ, 1-phase
X3 1 1/2 HP, 60 HZ, 1-phase, high pressure
LP 2 HP, 60 HZ, 1-phase, low pressure
2 HP, 60 HZ, 1-phase

Exposed Cast Iron covered with specialized dual powder/e-coating

Class 1, Group D atmospheres
High Corrosion Environment
Wet or Dry Sump Space (Water Ingress)

Quick Set (Adjustable Length)

RJ 1 = 74.5" - 105"*
RJ 2 = 104.4" - 165"
RJ 3 = 164" - 225"

Packer Manifold Access Ports

2 available, 1/4" NPT
Vacuums generated up to 25 in Hg.

Check Valve Compatibility

Standard VR ready check valve for PLLD (410152-001)
High pressure check valve for high pressure applications (410152-005)

100% Diesel
100% Gasoline
Gasoline and up to: 10% Ethanol, 15% Methanol, 20% MTBE, 20% ETBE, 20% TAME
The Red Jacket Portfolio offers a variety of solutions tailored for the special requirements of resiliency in today's renewable fuels, as well as fuels focused on improved emissions and fuel economy.