The TLS-350 and TLS-450PLUS ATGs are constantly monitoring their probes and sensors for warning and alarm conditions, such as fuel leaks, excessively high or low fuel levels, and equipment problems. When in the operating mode and there are no warning or alarm conditions active, the ATG displays the following message: ALL FUNCTIONS NORMAL (for the TLS-350) and SYSTEM STATUS, in green (for the TLS-450PLUS).
If a warning or alarm condition occurs, the ATG displays the alarm type and its location - either tank, input or sensor number. The system prints an alarm report showing the warning or alarm type, its location and the date and time the warning or alarm condition occurred. If more than one alarm or warning exists, the ATG will flash the messages alternately.
IMPORTANT: If any warnings or alarms are active on your ATG and you require assistance, follow your company guidelines or contact your local Authorized Service Provider. You can always contact the Veeder-Root Technical Support team as well with any questions.

WARNINGS: Indicate that an in-tank alarm is imminent or that a system fault has occurred.
ALARMS: Indicate a potentially dangerous situation may have occurred.
WARNING! DO NOT IGNORE ALARMS! Know the alarm response procedures for your site.

TO ACKNOWLEDGE WARNING AND ALARMS:
For the TLS-350 ATG, press the red Alarm/Test key. For the TLS-450PLUS ATG, press the Traffic indicator in the upper left corner. This silences the alarm beeper and acknowledges the condition. The front panel warning and alarm LEDs cannot be turned off until the cause of the condition has been rectified. Similarly, the warning and alarm displays remain until the cause of the condition has been fixed.

A LIST OF WARNINGS AND ALARMS WITH THEIR DESCRIPTIONS IS INCLUDED BELOW
ELEVATE YOUR FUEL MANAGEMENT SYSTEM
The TLS-350 Automatic Tank Gauging system has long set the standard for exceptional quality in fuel management systems. Today, the TLS-450PLUS tank gauge builds on that solid legacy to set a new bar for reliability and convenience.
See the benefits of upgrading to the TLS-450PLUS

ELECTRONIC PRESSURIZED LINE LEAK DETECTION (PLLD) SHUTDOWN ALARMS:
Gross Test Fail Alarm: 3 gph (11.3 lph) test failure in fuel line or tank. Dispensing halts, if programmed to do so, while the alarm is active.
PLLD Shutdown: ATG shuts down the line because of a failed line leak test, or an alarm assigned to disable the line is active.

ALARMS:
Continuous Handle Alarm: Handle signal has been active for a programmed number of hours.
Fuel Out Alarm: Tank product level below 10" level - cannot pump when active.
High Liquid Alarm: Liquid reached 8" on the dispenser pan sensor or 10" on the containment sump sensor.
High Product Alarm: Product level has exceeded 95% of programmed limit.
High Water Alarm: Water detected in tank exceeds programmed limit.
Sensor Fuel Alarm: Fuel is present in the area being monitored by the sensor.
Line Equipment Alarm: A problem with the pressure measurement equipment has been detected.
Low Liquid Alarm: The sensor in a brine-filled interstice detects a decrease in the brine level.
Mag Sensor Communication Alarm: Hardware failure - sensor or interconnecting wiring to console.
Maximum Product Alarm: Product level rose above the programmed limit.
Overfill Alarm: Fuel level has exceeded a programmed limit. Potential overflow of tank may occur.
Periodic Test Fail Alarm: 0.2 test failure in fuel line or tank. Dispensing halts, if programmed to do so.
Probe Out Alarm: Hardware failure - probe or interconnecting wiring to console.
Sensor Open Alarm: Pressure sensor reading is less than -8 psi. Only tested while the pump is running. Dispensing halts, if programmed to do so.
Sudden Loss Alarm: System detects loss of fuel during an idle period.

WARNINGS:
Delivery Needed Warning: Product level dropped below programmed limit.
High Water Warning: Water detected in tank exceeds programmed warning limit.
No CSLD Idle Time Warning: System has not had enough idle time over previous 24 hours to run a statistical leak detection test.
Setup Data Warning: Device setup data problem.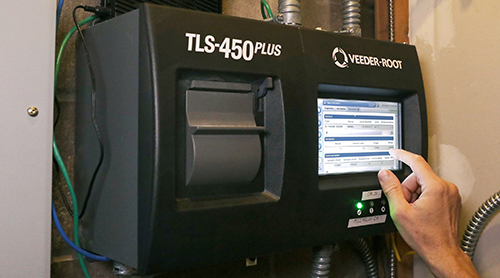 Printable ATG Warnings and Alarms sheet available
Download the print friendly document to use as a reference for your team onsite. This sheet is formatted to fit in the adhesive sleeve that ships with your Veeder-Root tank gauge.
Download the document
The TLS System Warnings and Alarms Troubleshooting Guide (577014-243) contains a table of the common alarms, an identification of the affected device, the cause of the alarm, and the action needed. While this is a list of common alarms, the actual alarms displayed by a particular console will depend upon the features installed.