Veeder-Root previewed new industry solutions at the 2018 National Association of Convenience Stores (NACS) Show, from October 8 - 10 at the Las Vegas Convention Center. The big reveal was the Clean Diesel In-Sump Fuel Conditioning System for removing water from underground diesel storage tanks to help stop corrosion in-tank.  In the video below, Veeder-Root Marketing Director Diane Sinosky explains the system and the demonstration in the booth at NACS.
Corrosion in ultra-low sulfur diesel storage tanks can lead to particulate in the fuel you dispense to customers, as well as, failure of critical fueling equipment on your site. The In-Sump Fuel Conditioning System keeps your fuel clean and ready to perform by continuously removing the excess water and particulate that gets into fueling systems. Fuel is conditioned where it is stored, preventing microbes from flourishing in order to stop corrosion and protect customer engines.
The In-Sump Fuel Conditioning System includes two modes of operation to remove both standing water from the tank bottom as well as emulsified water suspended in the fuel.  The water is filtered out and diverted to the storage reservoir and the filtered fuel is returned to tank. The first mode concentrates on bottom water removal with minimal fluid disturbance.  In the second mode, the system's own recirculated fuel powers a soft agitation process where even the smallest pockets of water are lifted and removed by the filtration.  
Another great industry solution presented at this year's NACS show was additional capabilities and connections to the TLS-450PLUS automatic tank gauge. The TLS-450PLUS is largely known for excelling at leak detection and fuel inventory management, but there are many devices and connections that can be made to the gauge to help c-store owners and operators simplify their operations. This includes:
Building Automation w/ MODBUS / BACnet Gateway
Push-to-Cloud Analytics w/ Insite360
Water Filtration Monitoring
Bag-in-Box Syrup Monitoring 
Environmental Monitoring
Pump Control – Standard Control Box
POS Systems
Remote Applications
Dave Nelligan, Product Manager for ATG products, walks through our display at NACS and discusses the many connections to the TLS-450PLUS in the video below.
 

Also launched at this year's NACS Show is the new EMR4 Electronic Meter Register, which allows users to eliminate manual processes at fuel transfer points in their bulk fueling operations. The EMR4 provides direct visibility to who has accessed fuel and restricts unauthorized use at the rack and on the trucks.  It is the only electronic meter register that is globally certified for all applications.  In the video below Tyson Reid, Product Manager for C&I Applications, discusses our products for the Commercial and Industrial markets. 
 

The Red Jacket CoreDEF STP and the TLS-450PLUS Recirculation Feature were also on display at NACS. These two products work together to circulate DEF through the lines during periods of extended cold or hot weather and maintain the viability of the product. Below, Product Application Engineer Joe Leonard takes a look at the Red Jacket CoreDEF STP and discusses the importance of DEF recirculation.
 

Finally, the Additive Injection System (AIS) was also shown at NACS. This system ensures a consistently blended product by automatically dosing during bulk fuel delivery. There is no risk for missed doses or incorrect ratios like with manually added treatments. The right amount of additive is delivered every time, regulating your costs. And, existing stations can implement without excavation.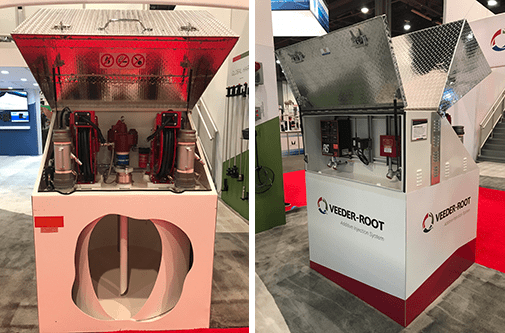 Follow us on Facebook to see more of our exhibit at this year's NACS Show.  Or, contact us today to discuss how our integrated solutions can connect throughout your convenience stores and fueling sites to solve the problems your team faces every day.