The new Red Jacket CoreDEF Series Submersible Turbine Pump (STP) and the Diesel Exhaust Fluid (DEF) recirculation software feature for the TLS-450PLUS Automatic Tank Gauge provide a complete solution for DEF dispensing at a retail or commercial site.
The Red Jacket CoreDEF Series STP joins a line of high-performing submersible turbine pumps from Red Jacket and sets a new standard for optimization of your DEF pumping network. Designed as an entirely customizable solution for lighter to medium duty DEF dispensing applications, the CoreDEF pump features various UMP sizes and a QuickSet adjustable length column pipe. Additionally, the CoreDEF STP has an optional adjustable pressure relief valve, offering line relief settings ranging from 20 – 45 PSI. This option will allow for post installation control of nozzle flow and squeeze. The pump features fiberglass reinforced impellers and diffusers, and silicon carbide mechanical UMP seals..
The new CoreDEF STP works with the TLS-450PLUS recirculation feature to provide a complete solution for DEF dispensing at a retail or commercial site.
During the colder winter months, risk of DEF freezing is a real concern. With the new recirculation feature of the TLS-450PLUS in conjunction with a temperature sensor owners can keep their inventory of DEF from freezing. When product temperature drops below the user-set threshold, the ATG activates the submersible DEF pump to begin circulating warm product out of the tank, into the product line, around the dispensing network, and back into the tank.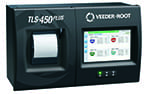 And for those extremely harsh climates, pair the TLS-450PLUS recirculation feature with a temperature controlled relay heating element for added protection against the cold. With this solution, retailers and commercial operators won't need to worry about their DEF when the temperature drops. 
The multi-tiered temperature-based control of recirculation and heating systems means recirculation can be used first to avoid freezing lines, and heat tapes can be initiated only when temperature demands. This helps minimize energy costs by operating freeze prevention only when warranted based on the parameters you set. In hot climates, the recirculation feature can also be utilized to prevent product from degrading in the lines.