As the relative humidity goes up, so does the likelihood of corrosion. This is especially true in-sumps where the added presence of ethanol vapors feeds into a corrosive environment to accelerate equipment deterioration. 
Even in cases where your sump is tight and does not allow water ingress, there is the possibility of humidity through condensation and the presence of ethanol vapors from pump fittings or piping. In most cases the key to avoiding equipment corrosion is to limit the humidity and ethanol vapors present in the sump. Learn more about protecting your in-sump equipment from corrosion.
Installation of the new Sump-Dri Desiccant system helps ensure the safety and serviceability of your sump-space equipment by decreasing the likelihood that the  conditions are right for corrosion. The Sump-Dri Desiccant is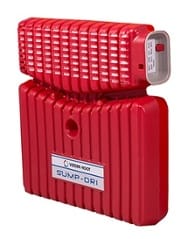 specifically formulated to reduce relative humidity and neutralize corrosive acetic acid vapors, which are produced by the biodegradation of ethanol. Once it's installed in your sump, moisture and vapors are absorbed by the desiccant and create a brine solution that is trapped in the reservoir to limit any re-evaporation. The brine can then simply be disposed of by pouring it into the sump liquid waste stream.
The Sump-Dri Desiccant is made from non-toxic materials and typically has a shelf life of 3 years when left in it's sealed barrier bag. The Sump-Dri will absorb differently based on humidity and temperature conditions and should be changed when desiccant in upper chamber has completely depleted. Under typical conditions it is expected to last 3-6 months. For maximum effectiveness the sump should be kept tight and free from standing water.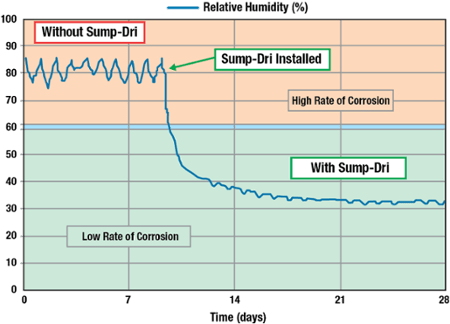 The Sump-Dri Desiccant kit includes mounting hardware which allows it to be hung from STP, or other existing equipment in sump. A carabiner can be used to clip the Sump-Dri directly to an STP eyelet or other sturdy equipment in the sump. It's recommended that the Sump-Dri is positioned as high as possible in the sump and height can be easily adjusted using the plastic slide on strap.
The Sump-Dri Desiccant significantly reduces corrosion on bare steel, brass, copper and other corrodible materials*
Learn more about protecting your in-sump equipment from corrosion.
*Results from 7-day accelerated corrosion tests in simulated sump space