Maintaining a water-free diesel underground storage tank is essential to combating corrosion in your gas station's fueling system.
The HydrX™ Fuel Conditioning System is a new solution to the problem of water ingress. It continuously removes water and polishes fuel before returning it to the fuel tank. While this may seem like a simple solution, there are many unique aspects of HydrX that ensures best-in-class protection of the fuel and fueling equipment.
Water Intake Device
Reaching the Lowest Point of the Tank
While other systems are only able to pull water from the tank directly below the Submersible Turbine Pump (STP), HydrX reaches and removes stagnate water all along the tank bottom. Its Water Intake Device* is flexible and uses a guide tube to direct it towards the lowest point of the tank, as determined by the tank tilt.
Depending on the tank configuration, the Water Intake Device could have 1, 3, or 6 different points where it is able to pick up water for removal. Unlike other systems, this proprietary device is able to run in multiple modes depending on the need.
Vacuum mode

 uses suction from the STP port to pull fuel, water, and particulate into the Fuel Conditioner.

Sweep mode 

uses clean fuel to push water and particulate to the lowest point in the tank where it is then extracted using vacuum mode.

Polishing mode

 is activated

when the vacuum and sweep modes are complete (i.e., no more water is being collected)

to ensure that any water remaining, at the bottom that is displaced by a delivery or entrained water in the fuel, is separated by the Fuel Conditioner.
* Patent Pending
Fuel Conditioner
Conditioning and Polishing Fuel
Once fuel is pulled up from the tank, it runs through the Fuel Conditioner for water removal. Fuel travels through a manifolded system that filters out water and particulates and collects it in the water containment vessel.
When the vessel is full of water, HydrX signals the TLS-450PLUS ATG, triggering an alarm telling you that it is time to empty out the 5-gallon reservoir. HydrX includes a water removal nozzle that connects directly to the Fuel Conditioner to easily pump out the wastewater, which should be added to the onsite oil-water collection system.
The cleaned and polished fuel is then returned to the underground storage tank.
A Simple Plan
While the idea of separating the water and polishing the fuel on a continuous basis is simple, not all systems available are going to be rigorous enough to achieve the desired impact. The HydrX Fuel Conditioning System has proprietary technologies that ensure it is able to separate water and combat corrosive environments.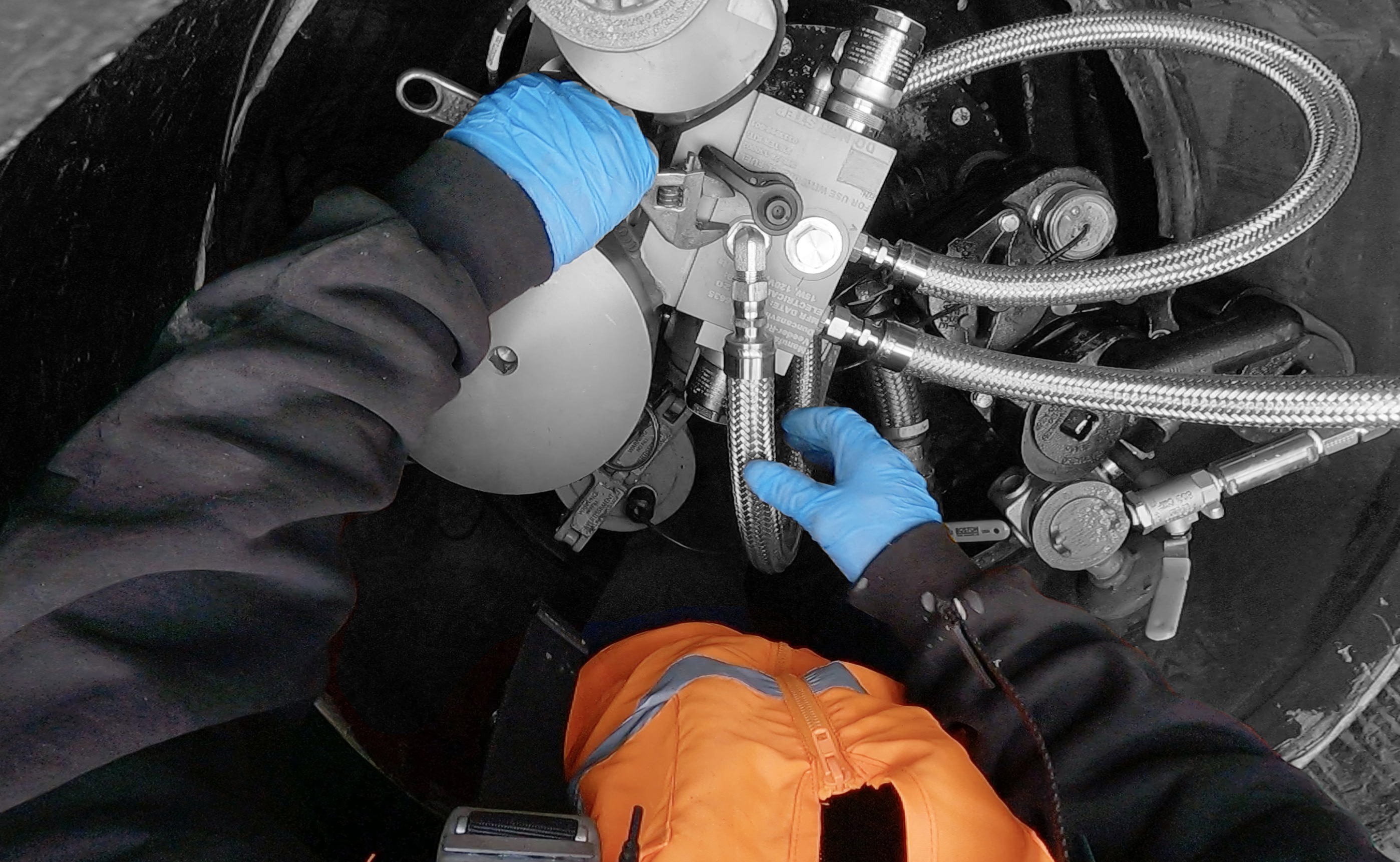 Read all our Combat Corrosion Articles
Water is integral to corrosive environments and a serious threat to diesel storage tanks and fuel equipment health. Learn more about the cause and impact of corrosion, and steps you can take to mitigate it.
Read More