Required EMR4 Equipment

1. How many meters do you have?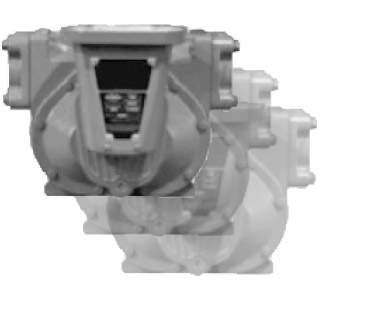 2. Select your application:

DC applications (mobile) will not require an external power supply, but AC powered (stationary) applications will require an external AC-to-DC UL-rated power supply with 10-28VDC, 120W min rating


3. How will you display head(s) be installed?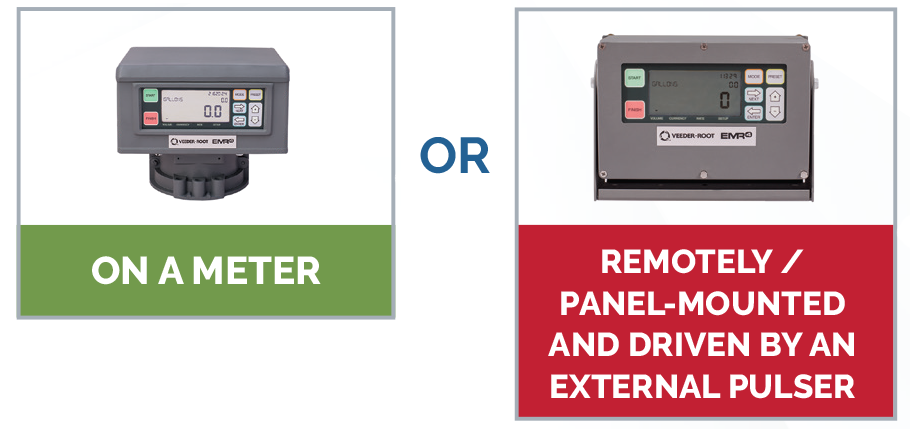 4. What is your language preference?
EMR4 Meter-Mounted Display Heads
EMR4 Panel-Mounted Display Heads


5. What certification do you need?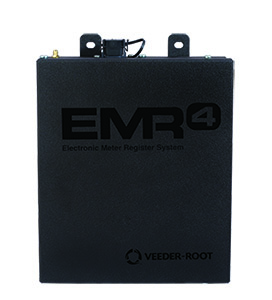 1 IB Box supports up to 2 display heads
| | |
| --- | --- |
| | |
| | |
| | ATEX/IECEx |
6. Who is your meter manufacturer?
Select your Installation Kit based on who the meter manufacturer is that the EMR4 will be installed on.
If you have a Dual-Meter System, two installation kits are required.
| | |
| --- | --- |
| | Installation Kits |
| | Tokheim, Daniels, Energy Flow Systems (Donavan) |
| | Smith Meter, Satam, Avery Hardoll, Petrol Instruments, and Alfons Haar |
| | LC, TCS, SAMPI, Tuthill |
| | Neptune and Liquatech (1.5" to 4" Existing w/ Mech. Temp. Comp.) |
| | Neptune and Liquatech (1.5" to 4" Existing w/o Mech. Temp. Comp.) |
| | Neptune and Liquatech (¾" to 1" Existing w/ Mech. Temp. Comp.) |
| | Brooks / Brodie |
EMR4 Common Configurations
Listed by Application
Aviation Refuelers
Single Meter
| | |
| --- | --- |
| | Description |
| | |
| | EMR4 Interconnect (IB) Box |
| | Installation Kit for Meter |
| | DataLink Direct Connect IB to PC |
| | Slip Printer or Roll Printer |
Dual Meter
| | |
| --- | --- |
| | Description |
| | |
| | EMR4 Interconnect (IB) Box |
| | Installation Kit for Meter |
| | Retrofit Kit for Meter 2 |
| | Cable 4- Wires 35' EMR4 |
| | DataLink Direct Connect IB to PC |
| | Keypad (Left & Right) |
| | Slip Printer or Roll Printer |
Dual Meter Refueler with Remote Displays
Dual Meter
| | |
| --- | --- |
| | Description |
| | |
| | EMR4 Interconnect (IB) Box |
| | Installation Kit for Meter |
| | (2) Top Mount Pulser Kits |
| | Retrofit Kit for Meter 2 |
| | Cable 4- Wires 35' EMR4 |
| | (2) Mounting Bracket for Remote Displays |
| | DataLink Direct Connect IB to PC |
| | Keypad (Left & Right) |
| | Slip Printer or Roll Printer |
Fuel Oil System
Single Meter
| | |
| --- | --- |
| | Description |
| | |
| | EMR4 Interconnect (IB) Box |
| | Installation Kit for Meter |
| | DataLink Direct Connect IB to PC |
| | Slip Printer or Roll Printer |
| | 2-Stage, 2" NPT Solenoid Valve Kit |
Dual Meter
| | |
| --- | --- |
| | Description |
| | |
| | EMR4 Interconnect (IB) Box |
| | Installation Kit for Meter |
| | Retrofit Kit for Meter 2 |
| | Cable 4- Wires 35' EMR4 |
| | DataLink Direct Connect IB to PC |
| | Keypad (Left & Right) |
| | Slip Printer or Roll Printer |
| | (2) 2-Stage, 2" NPT Solenoid Valve Kit |
Liquid Petroleum Gas - Temperature Compensation
| | |
| --- | --- |
| | Description |
| | |
| | EMR4 Interconnect (IB) Box |
| | Installation Kit for Meter |
| | DataLink Direct Connect IB to PC |
| | Slip Printer |
| | 3-way Solenoid Valve Kit |