Veeder-Root is in the fueling industry; however many of our associates have family on on the front line of the COVID-19 crisis, and all of us depend on them to support our health and well-being. Each individual's contributions can make a huge impact on our community.  That attitude has been exemplified by the actions of a few of our employees at the factory in Altoona, PA. At this facility, teams have been pitching in to create intubation shields and 3D printed masks to support local healthcare networks.
Building Intubation Shields
With a father who is an ER doctor and mother who is a former nurse, one of our employees at the Altoona site is acutely aware of the risks facing our medical professionals. They mentioned a local hospital did not currently have a shield to guard medical staff during the intubation process, a procedure that carries increased risk of COVID-19 transmission. To quickly help provide their teams with additional protection, he worked with a small team of Veeder-Root employees to make 5 intubation shields in-house and get them out to local hospitals.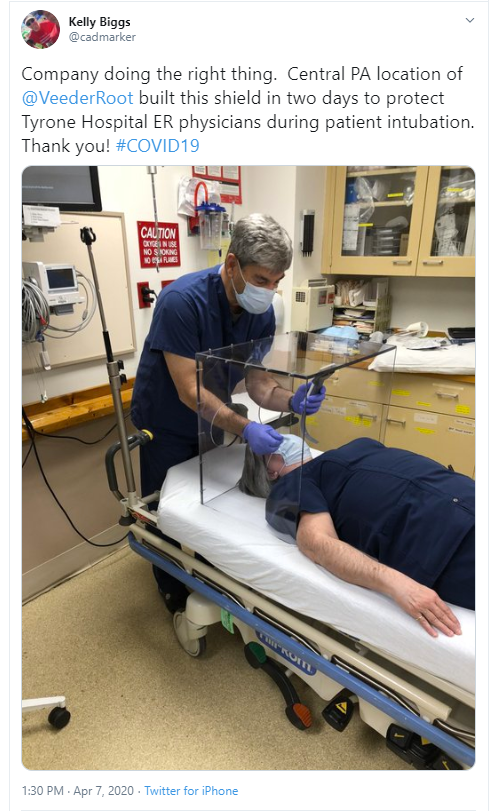 Creating Reusable Personal Protection Equipment
COVID-19 has also exposed a shortage of medical PPE supplies for individuals who are at a high risk of exposure.  With that in mind, one Veeder-Root employee turned his attention to 3D printed masks for his wife, a Physical Therapist Assistant at a local nursing home who needed a mask with increased filtering that would also be reusable. 
Printing 3D Masks
Wanting to give his wife an improved mask, he researched 3D mask designs, and located one developed by a doctor that are washable and reusable. He then setup his home 3D printer, generated the print profile, and then printed and tested the prototype mask. She wore it under her reusable mask and said she believed it was an improvement to her current PPE. 
He offered these masks for free through his own inventory to anyone who may want to have it as a backup. With the support of the Veeder-Root Altoona factory he was able to continue to make 16 more masks for other essential workers at local hospitals who are looking for an alternative, or who have no other options available.
In addition to printing masks, the team is also making ear savers on the 3D printer. The ear savers work with almost any mask by removing the pressure of the elastic from the back of the ears. Over 100 ear savers have been made at the Altoona factory and continue to be made. They are being used by team members in the factory and many have been donated to hospitals and other healthcare workers.
This equipment has offered a little peace of mind to some in these unprecedented times. The actions of these Veeder-Root individuals is a testament to their character and can-do determination. Better Begins Today.