Red Jacket Submersible Turbine Pumps (STPs) are the most widely installed submersible fuel pump in the world. That's because Red Jacket continues to offer the industry's most advanced STPs - delivering the highest efficiency, fuel flow and lowest power consumption to your fuel pumps. Red Jacket STPs are designed for serviceability and safety, and are built to last.
With the introduction of the Red Jacket Red Armor STP, the Red Jacket STP line now comes in a variety of materials designed for the specific conditions and application needs of a fuel site.
THE RED JACKET STP:
The Red Jacket Submersible Turbine Pump is a fixed speed pump that optimizes fuel flow to your dispensers. Its motor performance delivers higher flow rates than any other motor in the industry. It features Red Jacket's advanced packer manifold design, making it the industry's easiest and safest STP to install and service. Available in ¾HP to 2HP configurations and fixed or variable Quick Set lengths.
The Red Jacket STP's advanced packer manifold delivers automatic fuel drain, electrical disconnect, and reduced lifting force for increased site and environmental safety. The Red Jacket STP is compatible with built-in isolated contractor's box for quicker and safer installation.
THE RED JACKET AG STP:
The Red Jacket  Alcohol Gas (AG) Submersible Turbine Pump models are based on the TRJ design, but are built with materials compatible with Ethanol and Biodiesel blended fuels. The Red Jacket AG UMP and STP Final models are compatible with 100% gasoline, 100% methanol, 90% ethanol with 10% gasoline, 80% gasoline with 20% TAME, ETBE, or MTBE; and 100% diesel, diesel and up to 100% biodiesel, avgas, and jet fuel. The Red Jacket AG models make an excellent choice for swing tanks where owners want to retain future flexibility in the type of fuel stored.
The Red Jacket AG Submersible Turbine Pump model has received UL79A & UL79B certifications for renewable biofuels.
THE RED JACKET RED ARMOR STP: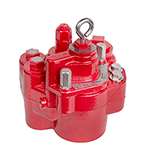 The new Red Jacket Red Armor Submersible Turbine Pumps are the ultimate survivor in your fueling infrastructure. The Red Armor series is built to last in the harshest corrosive environments created by ULSD and ethanol blends. These STPs have a specialty coating on all cast surfaces that withstands acetic acid exposure to prevent pitting and deterioration over time. The Red Armor STPs also have stainless steel construction on all exposed surfaces to ensure easy maintenance for the life of the pump.
The Red Armor specialty coating was selected as the toughest performer across a battery of abrasion, immersion and impact standards. It provides protection in-sump with powder coated packer manifold, stainless steel riser, nuts, springs, screws, check valve seat, eye bolt, and check valve guide, and in-tank protection includes powder-coated discharge head, stainless column pipe and quick-set connector. 
Contact us today to discuss which Red Jacket STP is right for your application.