What to clean, appropriate disinfectants, and other best practices for your ATG.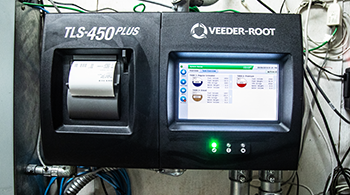 As essential businesses during the Coronavirus (COVID-19) outbreak, gas stations and convenience stores must take new safety precautions for every aspect of their operation – including sanitizing shared fueling equipment like TLS-3XX and TLS-4XX Series Automatic Tank Gauges (ATGs).
During this time, operators and technicians should take precautions when using any piece of fueling equipment. For Veeder-Root tank gauges, this means using a stylus or the tip of a cotton swab when operating TLS-450PLUS and TLS4/TLS4B tank gauge displays, or a capped pen or stylus to press the buttons when using a TLS-350.

How to clean & sanitize
The preferred method for cleaning and sanitizing ATG equipment follows these steps:
DO NOT SPRAY OR POUR DISINFECTANT DIRECTLY ON THE ATG. MAKE SURE NOT TO USE BLEACH PRODUCTS ON THE DISPLAY, CONSOLE, OR PRINTER DOOR. (more info below)
Clean the device with mild soap (pH-neutral is best) and water using a dampened microfiber cloth.
Disinfect by wiping 70-90% isopropanol (isopropyl alcohol) on the unit with a microfiber cloth taking care to disinfect both the touchscreen (the keypad for TLS-3xx Series ATGs) as well as other high-touch areas, like the printer door.
Take caution not to press hard on display to prevent damage.
Employees may use common disinfectants wipes on the outside casing.

Again, never spray cleaning solutions directly on the ATG. Instead, spray the solution on a cloth and wipe down the device. Spraying a solution directly on the ATG could result in damaging the display.
Read more about how to clean and disinfect other high touch areas throughout your convenience store.
For more resources on Coronavirus visit our COVID-19 UPDATES AND RESOURCES PAGE.