Introduction
This checklist is specific to Intelligent Pump Control (IPC) with Red Jacket IQ Control Boxes. It will provide Technicians and Owners with the documentation that IPC has been installed correctly.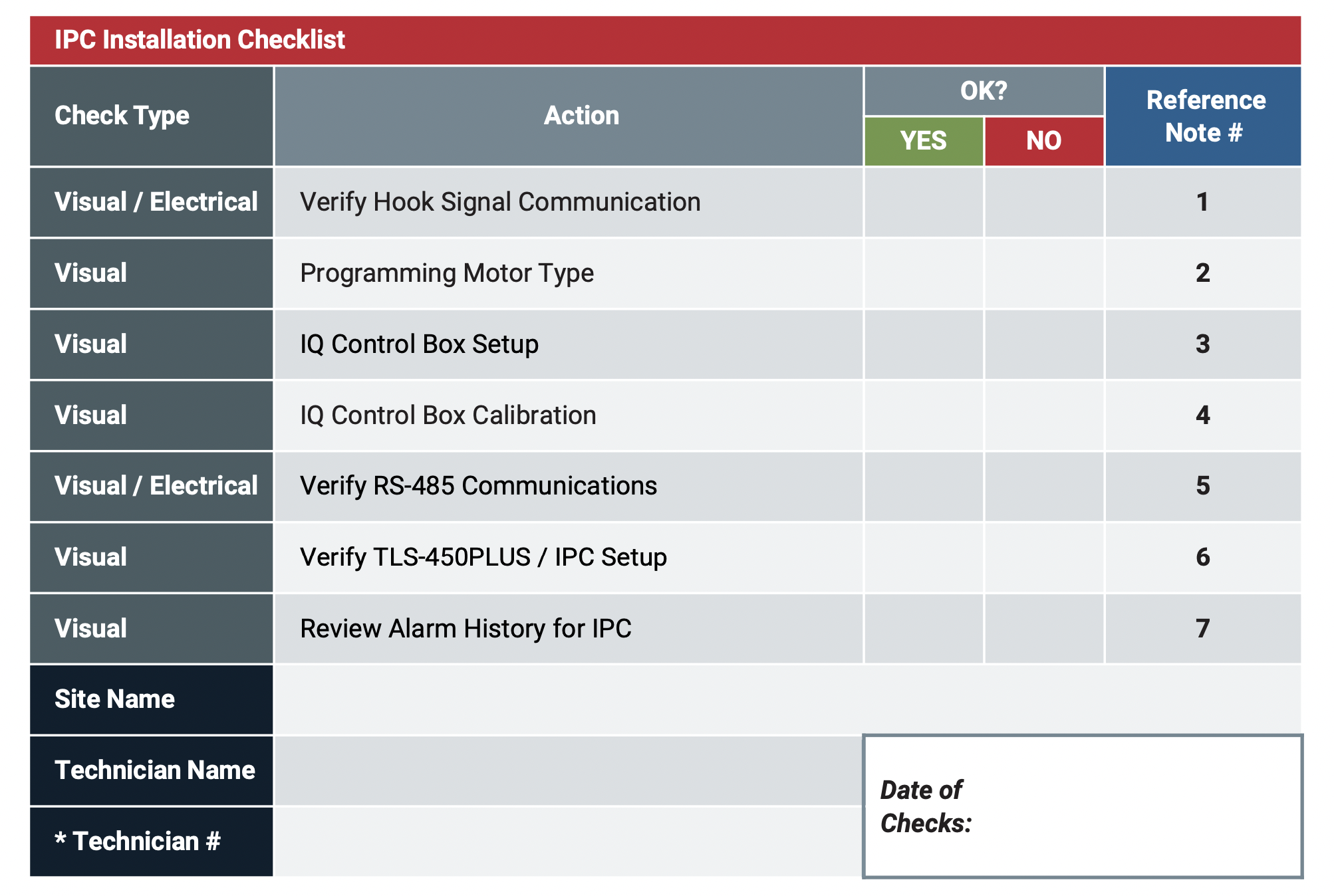 * Your Technician # can be found on your Red Jacket Foundation Certificate.
Note: This checklist should be used in conjunction with the IQ Control Box Installation and Owner's Manual (051-330).
Guidance Notes for Red Jacket IPC Installation Check

Note 1

– VERIFY HOOK SIGNAL COMMUNICATION

Verify each product's hook signal is being read by the TLS-450PLUS Automatic Tank Gauge (ATG)

PLLD Diagnostics Screen
Verify Voltage from D2 to GND inside IQ Control Box (should be ~120V)

If no Power, Check Circuit breaker panel and verify TLS Relay assignment is correct per product
Note 2 – PROGRAMMING MOTOR TYPE

Ensure Programming Motor Type done correctly in IQ Control Box by number of green flashes matching Table 5 or Table A-3 (Manual No: 051-330)
Note 3 – IQ CONTROL BOX SETUP

Verify IQ Control Box Setup Switch (SW1) matches desired pumping expected configuration from Table 7 or Figure A-5 (Manual No: 051-330)
Note 4 – IQ CONTROL BOX CALIBRATION

Ensure the Reset / Calibration button is held for 10 seconds until the indicator turns red, then release.

Controller will automatically run the STP and perform calibration.

Ensure solid green indicator and the procedure is complete.
Note 5 – RS-485 COMMUNICATIONS

a. Verify Wiring from IQ Control Box to TLS-450PLUS is in accordance with: Manual 051-330

b. Verify RS-485 Com Module is installed in compatible slots in accordance with: Manual 051-330
Note 6 – VERIFY TLS-450PLUS / IPC SETUP
a. Verify Communications are programmed.
b. Manual 051-330, Appendix A.
c. Verify proper addressing of pumps in setup on TLS-450PLUS.
d. Verify Dispenser Mode is active and programmed.
e. Auto Event Generation (verifying Switch-on-the-Fly).
f. With a handle signal active, turn off (remove power) from the Primary Pump at the breaker and ensure the Secondary Pump comes on.  
Note 7 – REVIEW ALARM HISTORY FOR IPC

a. Review if IPC Alarm(s) occur.

b. After High Throughput Activity, verify helper condition was activated, use serial command to verify.
Manual Reference Notes 
IQ Control Box Installation and Owner's Manual, 051-330 Rev. K
https://docs.veeder.com/gold/download.cfm?doc_id=9974
Table 5 – Motor Type Programming, page 13

Table A-2 – Motor Type Programming, page A-6

Table 7 – Motor Type Selections, page 15

Figure A-5 – SW1 Switch Setup Chart, page A-7
The Red Jacket STP Installation, Service, & Parts Lists Manual,  577013-830 Rev. AC
Further Information 
Contact Veeder-Root Technical Support at +1.800.323.1799 for additional help or questions.