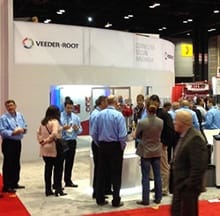 New products from Veeder-Root are set to debut at this year's PEI convention at the NACS Show. These new offerings were developed to help customers navigate the changing environment and new challenges their businesses are facing. These challenges include; accessibility of critical site data, protecting UST equipment from corrosion, increasing fueling capacity, and managing DEF.
To improve access to tank gauge data Veeder-Root has released two new mobile applications, The PLUS VIEW and The REMOTE VIEW, which connect users to their TLS-450PLUS and the TLS4 Series Automatic Tank Gauge. These free applications are available for mobile devices using Android or Apple iOS, and allow access to critical inventory and site data when and where it's needed.
The PLUS VIEW allows managers and owners to easily monitor their automatic tank gauges to view fuel site inventory and alarms through a mobile device. The app includes a map view for easy navigation between sites, station overview for a status check on tank inventory, and standard reports for Alarm, Inventory, and Last Delivery information.
The REMOTE VIEW provides an easy way to set up remote displays of tank gauge data at the front of their store. It enables site personnel to have a real-time connection to fuel inventory and alarms including a one touch review of active alarms without being directly in front of the tank gauge. 

The new Red Armor Submersible Turbine Pump was developed to survive in corrosive environments created by ultra-low sulfur diesel and ethanol-based fuel blends. It utilizes specialty coatings on all cast surfaces to withstand acetic acid exposure and deterioration. The Red Armor STP also includes stainless steel construction on exposed surfaces for easy maintenance for the life of the pump and protection for parts in the sump and the tank.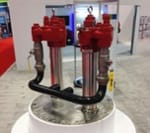 The Red Jacket 2+2 pump configuration ensures capacity to meet periods of high demand while maintaining the reliability and easy serviceability of The Red Jacket STP. The 2+2 configuration supplies over 50% more flow than a 4-HP variable speed pump, but since the pumps do not require 3 phase power, this configuration saves energy over the alternative even when both pumps are running.

The new Red Jacket CoreDEF Submersible Turbine Pump is a medium or light duty diesel exhaust fluid STP. This pump can be paired with the TLS-450PLUS Recirculation Software Feature to keep DEF from freezing by circulating it periodically as temperatures drop. These two product offerings combine to provide an innovative solution for managing DEF and keeping your station up and running.
The new EMR4 Electronic Meter Register system builds on the legacy of our EMR3, but offers additional features, including: WiFi capability, built in USB for software updates, updated relay and pulse configurations, and enhanced memory and processing power.
Meter Drift detection is now a part of Insite360 Advanced Variance Analysis, allowing the detection of meters out of calibration for throughput of up to 250,000 gallons per month. Insite360 Advanced Variance Analysis is a managed service that monitors fuel sites to identify instances of fuel variance, determine the source of loss, and provide actionable recommendations to reduce loss. 
Visit booth #4137 at NACS to learn more about all the exciting new solutions from Veeder-Root.